Scots are the most financially clued up in the UK
Only 6% of 16-24-year-olds say they learnt about finance at school
Some 43% of 16-24-year-olds get their financial education online or on social media
With the cost of living crisis proving to be a major concern across the UK and over a third of Brits (36%) agreeing that 'financial matters confuse them', many of us are looking for ways to improve our financial savviness.¹ But how much do we actually understand about money and where are we getting this information from?
New research from Virgin Money* reveals the regions in the UK which are the most financially knowledgeable, popular sources of financial education for each generation and the least understood money-related terms.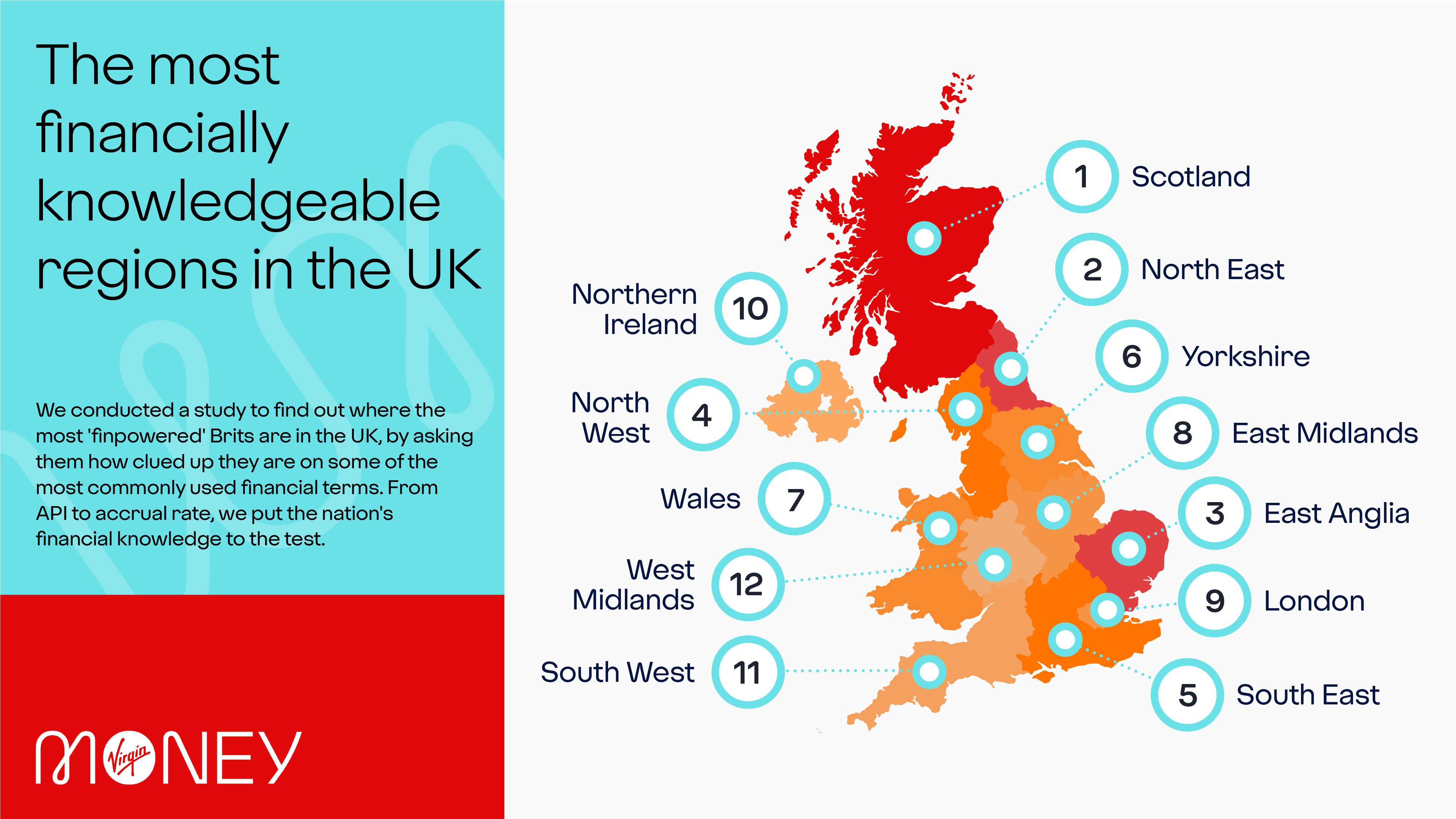 To uncover which areas in the UK are the most financially knowledgeable, 2,006 Brits were asked if they understood a series of common current account, mortgage, savings and debt-related terms - and you may be surprised by the results.
Scotland came out on top, with almost three-quarters (73%) of survey respondents reporting a good understanding of financial lingo. Perhaps most surprisingly, the financial capital of the UK, London came in ninth position, with Londoners only understanding 67% of the terms.
The top 10 most misunderstood financial terms (% who don't understand)
Additional permitted subscription - 63%
Assumed interest rate - 57%
Accrual rate - 56%
Annual percentage yield - 51%
Annual equivalent rate - 51%
Annuity - 46%
Tracker mortgage - 46%
Auto-enrolment - 46%
Compound interest - 46%
Financial Services Compensation Scheme - 43%
With such a variation in knowledge, where are Brits sourcing their financial information and is it the same for every generation?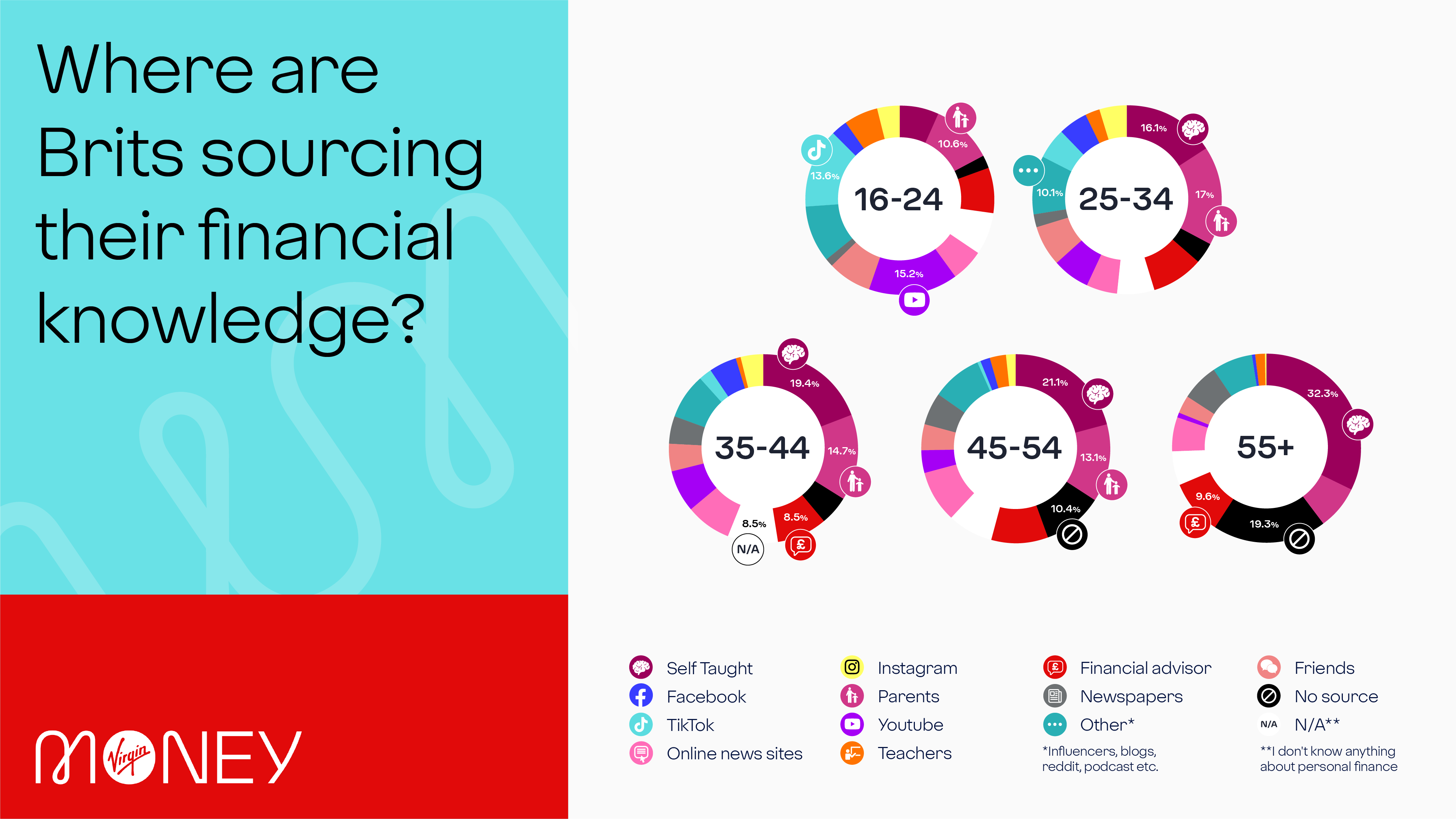 In this digital world, more than two fifths (43%) of 16-24-year-olds are taking to online platforms and social media to learn about finance. However, it seems that receiving a financial education in the classroom isn't guaranteed, as only 6% of Gen Z said that they learned about money at school. YouTube proved the most popular source of information amongst this age group (15%) and TikTok the second most used source (14%).
While house prices are often the biggest challenge facing first-time buyers, a mortgage knowledge gap might be holding young people back too. For those looking to buy their first home, many will ask their parents for advice - 17% of 25-34-year-olds claim to have learned the most about money from their parents. However, parents might not know best! People that understood the fewest mortgage-related terms were most likely to say that they learned about money from their parents (14%).
When it comes to figuring out how to make your money work harder, learning from the experts is best. Almost a third (32%) of respondents aged 55 and above and 21% of 45-54-year-olds claim to have taught themselves the majority of what they know about money. However, the results show that the majority of people who don't understand saving-related terms are self-taught (13%). Given how important savings for retirement is, speaking to a financial expert could give you the advice and confidence needed to save in the best way for you.
Fergus Murphy, Chief Customer Experience Officer at Virgin Money, said: "These are challenging times and many of us are feeling the pinch. While lots of us want to become more financially savvy, we also know that financial freedom starts with education. Our research highlights where the knowledge gaps are and, importantly, where work is needed to help Brits become more confident with their money.
"We hope that these findings reassure people that they aren't alone in finding the world of finance confusing and that our online jargon buster will be a starting point for people looking to learn more."
Head to the Virgin Money website to learn more about some commonly used financial terms, starting with those you are likely to come across when looking at current accounts.