In the middle of a cost-of-living crisis, it can be tempting to choose products with a cheaper price point, but new research from Virgin Money has revealed that if you're able to spend more initially, you can sometimes save money in the long run.
People's budgets are increasingly stretched, so spending more on items isn't something that everyone will be able to do in the current climate. However, for those who can, Katy Simpson, Personal Finance Expert from Virgin Money, has shared her top tips to help you buy better without breaking the bank.
Looking at items including sofas, cookware and home appliances, the research compares a product's initial cost with its average lifespan (using the manufacturer guarantee) to reveal how much these items could add up to over a lifetime. Buying more expensive, higher quality items could save you more than £3,000, as the study found that buying products with a lower initial price could cost 73% more over a lifetime1.
With some items, the difference was significant. For example, a premium brand cast iron casserole pot may carry a £300+ price tag, but the product comes with a lifetime guarantee. A cheaper alternative priced at £45 only has a one-year warranty. This means that although the initial cost of the premium brand is higher, the lower priced equivalent could cost over £2,800 more over a lifetime.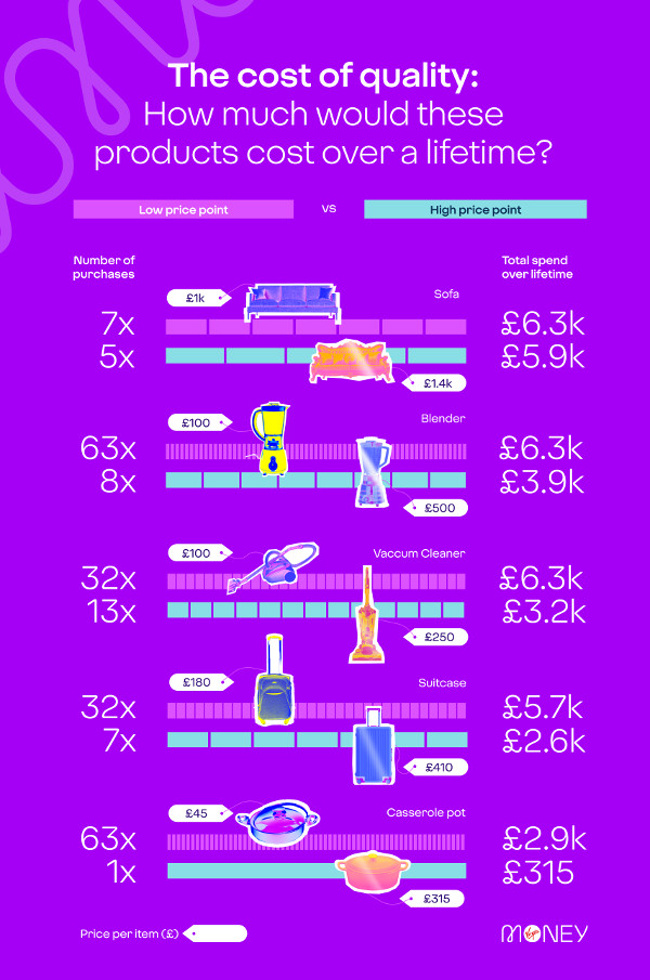 Buying lower priced products more often can also take its toll on the environment, especially when these items have shorter average lifespans. Items in a lower price bracket can carry double the carbon footprint over a lifetime on average, compared to longer lasting alternatives.
Here, Katy Simpson shares her top tips to help Brits budget for quality products to last a lifetime.
1. Split the cost
Katy says: "Investing in quality will often carry a higher price point but could end up costing you less in the long run, especially when it comes to buying products with a longer lifespan.
"To make the most of these long-term savings and to cut down on the initial expenditure, consider spreading the cost. This can be done simply by purchasing using credit, such as a buy now, pay later product Link opens in a new window, like Virgin Money Slyce Link opens in a new window, or a 0% credit card, allowing you to spread your repayments over a longer period of time to make them more affordable.
2. Plan your purchases and save
Katy comments: "Another option for purchasing more expensive products is to set yourself a savings goal and put money aside regularly to help you achieve your aim.
"Perhaps you want to buy a new sofa or item of furniture that will last you for years to come, rather than purchasing a cheaper item which you may want to replace after a few years. Set this as your savings goal, work out how much you can afford to save towards it every month, and then divide the price of the item by your saving amount. This will give you a rough estimate of how long it will take until you can afford to buy the product outright.
"It's also a good idea to time your purchase with predictable sales events, such as the January sales. It's difficult to predict what discounts will be available, but it could mean that you end up keeping some of your hard-earned savings for a future purchase."
3. Get cash back by selling
Katy shares: "Selling or part exchanging things you own but no longer want can also be a great way to contribute towards the cost of a new upgrade.
"You could make money on your preloved items by selling them second hand, helping both your bank balance and the environment, as you won't be throwing something away. If you're looking to upgrade on an item, one option that some retailers may offer is part exchange, which is another good way to contribute towards the cost, although this will vary between items and shops."
4. Look for quality second hand
Katy explains:"In many cases you don't have to buy new to get quality. Older furniture can often be of a higher standard than modern high street equivalents and can last for decades if well cared for. Pieces like wooden coffee tables or side units can be picked up relatively cheaply and can often be found at vintage furniture stores and fairs.
5. Do your research
Katy reveals: "Price isn't always a marker of quality, so it's important to do your research to make sure you're spending extra for the right reasons, rather than just picking up a big-name brand with a large price tag. "When you're looking for a particular type of product, have a look into who the notable brands are, and then check the reviews to find out whether they're actually worth the extra investment. Not all big-name brands provide the quality that you would expect from the larger price tag, and it's important to remember not to spend more for the sake of it."
For more information about Virgin Money Slyce, visit here Link opens in a new window, and visit Brighter Money Link opens in a new window to find more money saving tips.